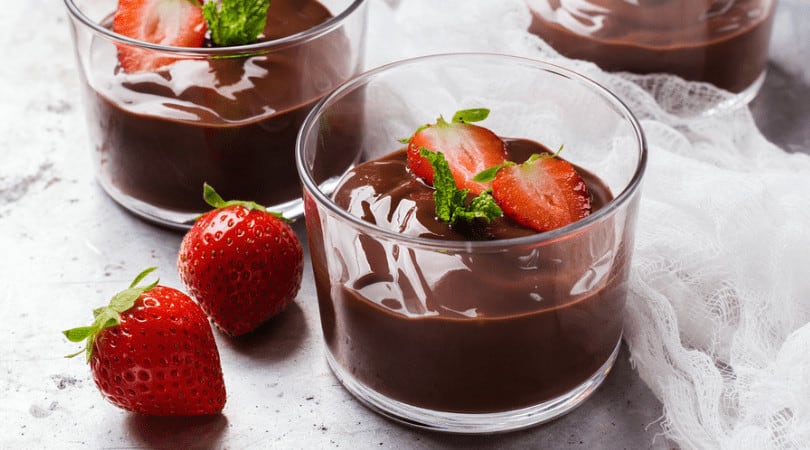 2 Cups Fresh strawberries, hulled

2 Cups Plain whole milk Greek yogurt

½ Cup Unsweetened cocoa powder

¼ Cup Whole milk or half-and-half

1 Scoop Vital Whey Cocoa, optional

2 TBSP Maple syrup or honey

1 TSP Pure vanilla extract
Besides being delicious, dairy products can be a wonderful source of protein, calcium, vitamin D, and probiotics.
Probiotics are tons of tiny bacteria that you can't see with your naked eye. They're found in fermented foods and help keep your intestinal tract in tip top shape for healthy digestion and nutrient absorption. Probiotics have also been linked to oral health and improved breath.
Plain, unflavored yogurt is a good choice for your daily dose of probiotics. With a few pantry ingredients, you can jazz up plain yogurt into probiotic pudding. Try this strawberry pudding recipe for breakfast, snack, or dessert.
This chocolate covered strawberry pudding is healthier than traditional puddings filled with sugar. Cocoa powder adds rich chocolate flavor and maple syrup or honey lightly sweetens the yogurt. The trick to turning yogurt into a healthy pudding recipe is whipping the ingredients with a handheld or stand mixer for a fluffy consistency.
If you like strawberry pudding, you'll love the addition of fresh, mashed strawberries. They're folded into the chocolate pudding base to create a strawberry swirl. Fresh produce, including strawberries, are a cornerstone of a healthy diet and further support digestive and oral health.
Total Time: 10 minutes; Yield: 4 servings
Place strawberries in a shallow bowl. Use the back of a fork or potato masher to mash the berries. Set aside.

Place yogurt, milk, cocoa powder, whey protein, maple syrup/honey, and vanilla in a mixing bowl. Beat with a hand mixer or stand mixer until smooth and fluffy, about 2 to 4 minutes.

Use a spatula to gently fold the mashed strawberries into the yogurt mixture. Divide between four serving dishes and enjoy immediately.
Latest posts by Ana Reisdorf, RD
(see all)