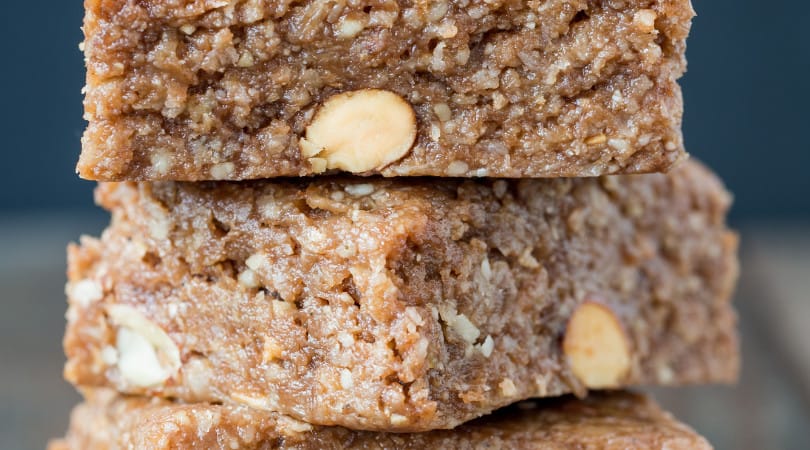 1 Cup Pitted deglet noor dates

1 Cup Raw cashews

½ Cup Unsweetened shredded coconut

2 Scoops Vital Whey protein powder

1 TBSP Coconut oil, melted

½ TSP Pure vanilla extract

⅛ TSP Salt
Store bought power bars and granola bars may be a convenient snack option, but they're pricey. Buying them regularly can quickly add up on your grocery bill. Plus, many bars appear healthy but contain lots of added sugars or are lacking in the protein department.
It's more economical and easier than you think to make a power bar recipe at home. This power bar recipe is no bake and made with just seven simple ingredients, which includes pantry staples like salt, vanilla extract, and coconut oil.
The bars are naturally sweetened with dates and cashews and unsweetened coconut add texture and flavor. Two scoops of whey protein powder added to the mixture helps deliver 9 grams of protein in each power bar to help keep your hunger satisfied between meals and support muscle health.
You could also use chocolate-flavored whey and add mini chocolate chips or cacao nibs to make these power bars coconut chocolate flavored.
We recommend meal prepping this protein power bar recipe at the start of the week for a healthy snack, sweet treat, or pre-workout bite the whole family can enjoy.
Total Time: 20 minutes; Yield: 8 servings
Line a 9-inch loaf pan with parchment paper and seat aside.

Place dates, cashews, coconut, whey, vanilla, salt, and coconut oil in the bowl of a food processor with blade attachment. Process for about 30 seconds to 1 minute or until the mixture has a coarse texture. The mixture should start to pull away from the sides of the bowl and stick together. If it's too dry and crumbly, add 1 or 2 tablespoons of water and process again to incorporate.

Transfer mixture to the parchment lined loaf pan and press into an even layer. Freeze for 15 to 20 minutes.

Use the parchment paper to lift the bars from the pan. Cut into 8 equal sized bars. Store in a sealed container in the refrigerator.
Latest posts by Ana Reisdorf, RD
(see all)