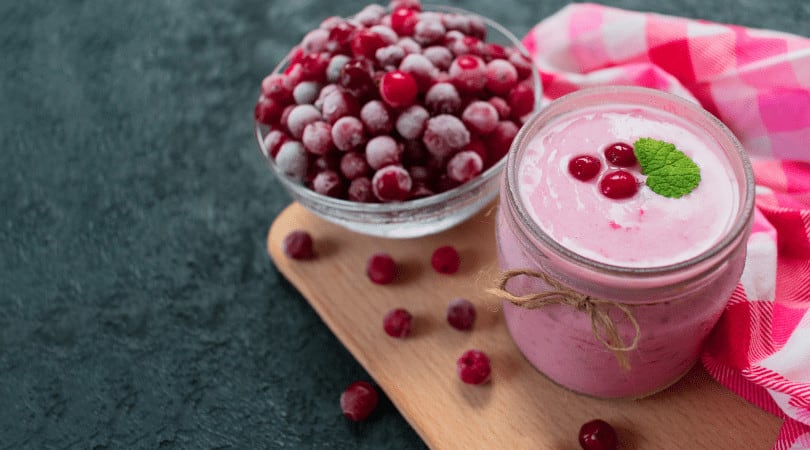 2 Cups Frozen cranberries

½ Cup Plain, grass-fed, whole milk Greek yogurt

1 Scoop Natural Vital Whey

2 Tbsp Pure maple syrup

¼ Tsp Pure vanilla extract
Fresh cranberries are notoriously tart tasting, so it can be tough to enjoy them raw compared to other berries.
Cranberries most often show up at the dining table as heavily sweetened cranberry sauce, juice that's been blended with water and sweetener, or in sweetened dried form that can be added to trail mix and baked goods. Due to their tartness, this makes it a challenge to find healthy cranberry recipes.
Fresh cranberries are a good source of fiber, vitamin C, and several antioxidant compounds, most notably quercetin. Fiber is important for digestive and cardiovascular health, while vitamin C and other antioxidants help boost immunity and fight inflammation and aging that can lead to chronic disease. Cranberries have benefits for bladder health.
We use frozen cranberries and creamy, whole milk yogurt to create an instant, 5-minute frozen cranberry yogurt recipe. Try it between courses or after a more indulgent holiday meal to cleanse the palate of heavier flavors. Or even try it for a cranberry breakfast recipe option, as it is a great source of protein to start your day.
Makes 2 to 4 servings
Total Time: 5 minutes
Place yogurt, whey powder, maple syrup, cranberries, and vanilla extract in the jar of a high-speed blender or the bowl of a food processor with a multi-purpose blade attached.

Process until cranberries are finely blended into the yogurt, about 1 minute. You may need to pause the blender or processor to scrape the sides of the jar or tamp ingredients down.

The frozen yogurt is ready to serve immediately. You can also transfer it to an airtight container and place in the freezer for 20 to 30 minutes for a firmer consistency.
Kitchen Notes: 
If you can't find frozen cranberries, simply buy a bag of fresh and place it in the freezer.
You can also sweeten it with honey or sugar. You can adjust the level of sweetness by increasing the amount of sweetener, but this will change the estimated sugar content found in the nutrition information.
This frozen yogurt is best enjoyed fresh.
Latest posts by Ana Reisdorf, RD
(see all)