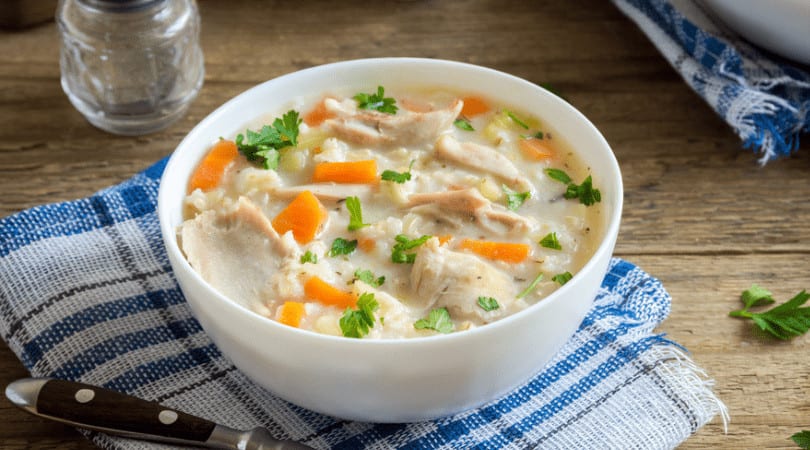 1 Pound Turkey cutlets, cut into 1-inch pieces

8 Oz. Sliced white mushrooms (about 2 cups)

4 Carrots, chopped

4 Celery stalks, chopped

1 Medium yellow onion, chopped

5 Cups Low sodium chicken or turkey broth

1 Cup Uncooked quick-cooking wild rice

3/4 Cup Plain Greek whole milk yogurt

5 Scoops Glut Immune

2 TBSPs Fresh thyme leaves (or 2 teaspoons dried ground thyme)

2 TBSPs Unsalted butter

1 TBSP Fresh chopped parsley (or 1 teaspoon dried parsley)

1 TBSP Extra virgin olive oil

1 TSP Salt

½ TSP Ground black pepper
A big bowl of soup probably isn't the first thing you reach for to keep your teeth healthy, but did you know many soup recipes include multiple ingredients that can support dental health?
This wild rice soup made with turkey is a great example. This creamy turkey soup recipe includes turkey and yogurt, which are good sources of phosphorus and calcium, respectively. These ingredients provide protein and essential minerals that help maintain healthy tooth enamel for strong teeth.
Using yogurt instead of heavy cream or half-and-half in soup adds a creamy texture with extra protein and less fat. This creamy turkey and wild rice soup recipe also contains high-fiber ingredients, including veggies and whole grain rice. Dietary fiber increases saliva production and helps "scrub" plaque, bacteria, and food particles away from teeth.
One of the best parts of soup recipes is how easy they are to customize. If you don't have turkey or wild rice available to you, you can replace these ingredients with chicken or another whole grain, such as barley or farro. If you have leafy greens that need to be used up, chop them and add toward the end of cooking time for an extra serving of veggies.
Total Time: 55 minutes
; Yield: 5 servings
Heat olive oil and butter in a large stock pot set over medium-high heat. When the butter is melted, add the chopped onion, carrots, celery, and mushrooms. Saute for about 5 minutes, stirring frequently, until the vegetables begin to soften.

Add the salt, ground black pepper, thyme, and wild rice. Cook for 2 to 3 minutes longer to toast the rice.

Add the broth and Glut Immune to the pot and stir to combine well. Heat until soup begins to boil, then cover the pot with a lid and reduce the heat to medium-low. Simmer for 10 to 15 minutes.

Add the turkey to the simmering soup and again cover the pot with a lid. Simmer for an additional 10 to 15 minutes.

Stir in the yogurt and parsley and heat for 5 more minutes. If the soup is too thick, you can add ½ cup extra water or stock at a time to reach your desired consistency. Ladle into bowls and serve.
Notes
If you can't find quick-cooking wild rice, use traditional wild rice but increase the cooking time. Simmer for about 30 minutes before adding the turkey and another 15 to 20 minutes after adding the turkey. You can replace the turkey cutlets with leftover cooked turkey or chicken. If using cooked turkey, add it at the end of the cooking time, when you stir in the yogurt, and just heat through. You can also swap the turkey cutlets for boneless, skinless chicken tenders or breasts cut into 1-inch pieces.
Latest posts by Ana Reisdorf, RD
(see all)