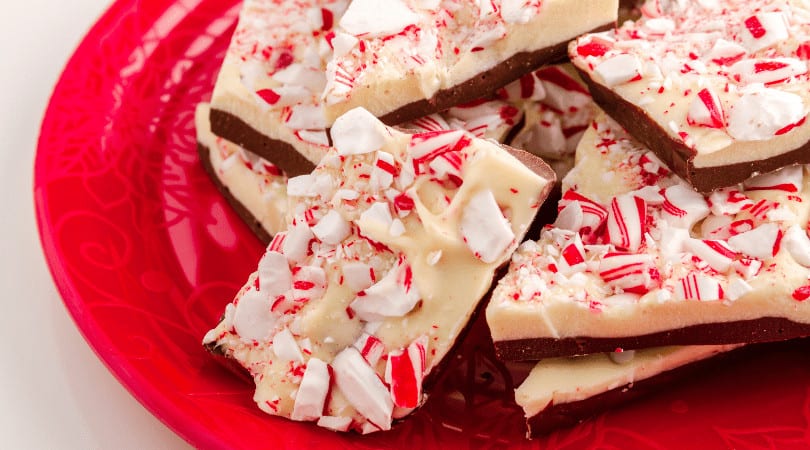 20 Oz. Dark chocolate chips

2 Scoops Vital Whey Natural Cocoa

½ TSP Pure peppermint extract

4 Whole Peppermint candy canes
Creamy chocolate paired with cool peppermint is a classic holiday flavor pairing. This Dark Chocolate Peppermint Bark candy recipe is a healthy way to satisfy your sweet tooth. This treat is naturally gluten-free and the dark chocolate is packed with antioxidants and important minerals like iron, magnesium, and manganese.
We've added our Vital Whey Natural Cocoa for an extra dose of protein. Whey protein powder dessert recipes are popular among avid exercisers and health nuts, but these healthier treats can be enjoyed by everyone. The addition of whey protein helps satisfy cravings, slow digestion, and counteract the rise in blood sugar that usually occurs after eating sweets.
The best part? This dark chocolate peppermint bark recipe requires no baking and minimal ingredients so it can be made in a pinch. It's the perfect treat recipe if you need a last-minute gift or you're on dessert duty and have no time to bake.
Dark Chocolate Peppermint Bark also makes a festive homemade gift. Simply pack your chocolate bark into treat bags and tie with a ribbon to share with neighbors, coworkers, and teachers. Don't forget to keep some for yourself—the minty chocolate is a refreshing and palate cleansing post-meal bite.
Prep Time: 10 minutes
Inactive Time: 20 minutes
Total Time: 30 minutes
Makes: 22 servings
Line a rimmed baking sheet with parchment paper. Set aside.

Place candy canes in a resealable plastic bag. Use a rolling pin or meat tenderizer to crush the candy canes into small bits. Set aside.

Place chocolate chips in a microwave-safe bowl. Microwave for 30 seconds at 50 percent power, then remove and stir the chocolate chips. Repeat this process until the chocolate chips are mostly melted with only a few small lumps remaining.

Add the Vital Whey and peppermint extract to the chocolate. Stir until chocolate is completely melted and mixture is smooth.

Pour the chocolate onto the parchment lined baking sheet. Use a spatula to spread the chocolate out, leaving a border between the chocolate and the edge of the baking sheet.

Sprinkle the crushed candy canes on top of the chocolate, pressing lightly with your hands to make sure the candy adheres.

Place the chocolate in the freezer for 20 minutes to harden. Remove and use a knife to break it into pieces. Store in an airtight container at room temperature or in the refrigerator.
Latest posts by Ana Reisdorf, RD
(see all)