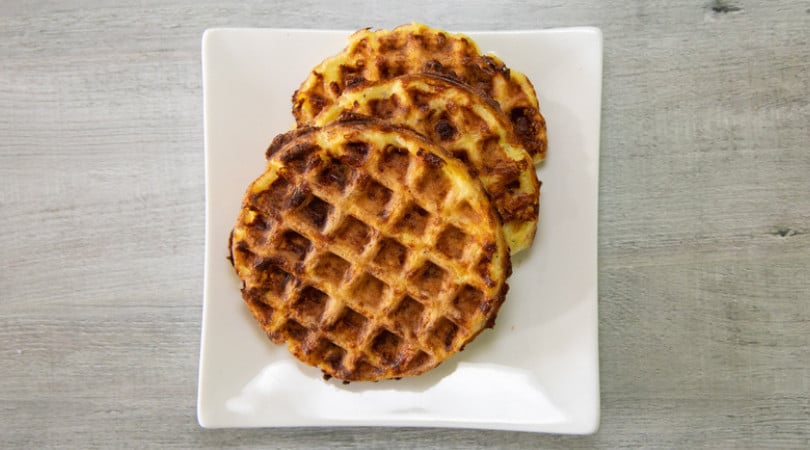 ⅓ Cup Water

2 Large Eggs, at room temperature

4 Scoops Vital Whey protein powder

2 TBSP Unsalted butter, melted

1 TSP Baking powder

1 TSP Pure vanilla extract

¼ TSP Ground cinnamon

¼ TSP Salt
If you love waffles for breakfast but not the way you feel afterwards, you'll appreciate this healthy protein waffle recipe. It's made without any flour or sugar so it's a friendly option for keto, paleo, and grain-free lifestyles.
Protein waffle recipes are also a more blood sugar friendly alternative to traditional waffles made with flour. Each waffle contains just 2 grams of carbohydrates and 15 grams of protein, so they won't spike blood sugar and leave you feeling hungry again shortly after eating.
This recipe for protein waffles requires just seven ingredients, plus water. The batter is made with whey protein powder, eggs, melted butter, ground cinnamon, salt, and vanilla extract. Mixing the batter in a blender helps keep the whey protein powder from clumping and cuts down on prep time.
This protein powder waffles recipe is quick enough to make on busy weekday mornings. The waffles can also be enjoyed for a high-protein snack. You can use plain, chocolate, or vanilla protein powder to change up the flavor or get creative with toppings. Natural nut butter, coconut butter, and fresh fruit are all healthy waffle topping choices.
Total Time: 15 minutes; Yield: 5 servings
Combine whey, water, eggs, baking powder, melted butter, vanilla, cinnamon, and salt in a blender. Blend 10 to 20 seconds or until smooth. The waffle batter will be thin.

Heat and grease waffle iron according to manufacturer instructions. When the waffle iron is hot, pour ⅓ cup of batter onto the iron. Cook until the steam stops coming out of the waffle iron, about 1 ½ to 2 minutes per waffle. The longer each waffle cooks, the crisper the texture will be.

Repeat with remaining batter until all waffles have been cooked. Serve waffles with your choice of toppings.
Latest posts by Ana Reisdorf, RD
(see all)