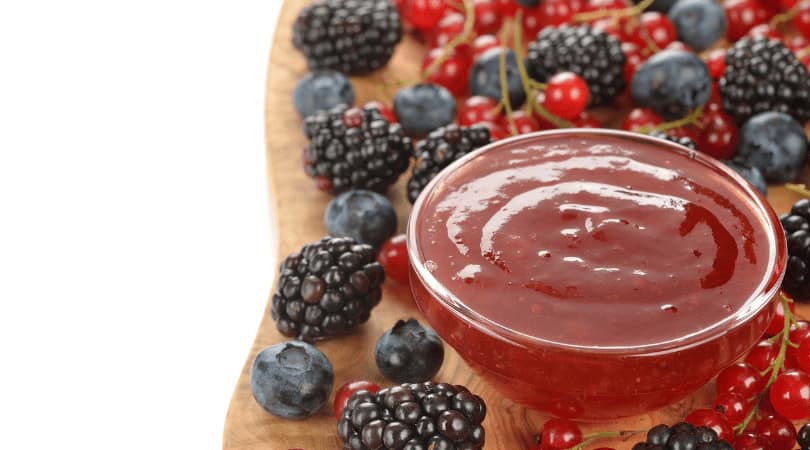 2 cups fresh or frozen mixed berries (blueberries, raspberries, and/or blackberries)

3 TBSP honey

2 TBSP chia seeds

2 TBSP fresh ginger root, grated

3 scoops Glut Immune
Looking for a delicious mixed berry jam recipe to top your toast with? We got you covered! Our berry ginger jam recipe is the delicious topping for toast, oatmeal, or pancakes you have been seeking. And it's incredibly easy to make!
It starts with your choice of mixed frozen berries, we like a combo of blueberries, raspberries, and blackberries. These are easy to find any time of year in the frozen food section. Berries are not only sweet, but they also add a hefty dose of antioxidants to the berry jam recipe.
Chia seeds, which are high in fiber and plant-based omega-3s, add thickness to the mix. Honey adds a bit of natural sweetness. You can adjust the amount of honey if you prefer less sweetness or sugar content.
Grated fresh ginger root helps provide an interesting spicy flavor to the ginger jam recipe, but also helps support immune and gut health.
To boost the immune-support of this recipe using ginger jam, we added some of our Glut Immune glutamine powder. Glut Immune helps support the immune system, muscle repair, gut health, and brain function.
Our delicious mixed berry jam recipe takes just 15 minutes to prepare and can be made ahead of time for a busy week. Your toast is begging for it!
Makes: 1 cup
Total Time: 15 minutes
Combine all ingredients in a medium saucepan. Cook over medium heat for about 10 to 15 minutes or until the berries begin to burst and release their juices and the mixture begins to thicken.

Remove from heat and let cool completely.

Transfer jam to an airtight storage container and store in the refrigerator for up to 1 week. Try stirring the jam into oatmeal, spreading on sprouted toast or protein pancakes, or layering with chia pudding or yogurt.
Latest posts by Ana Reisdorf, RD
(see all)