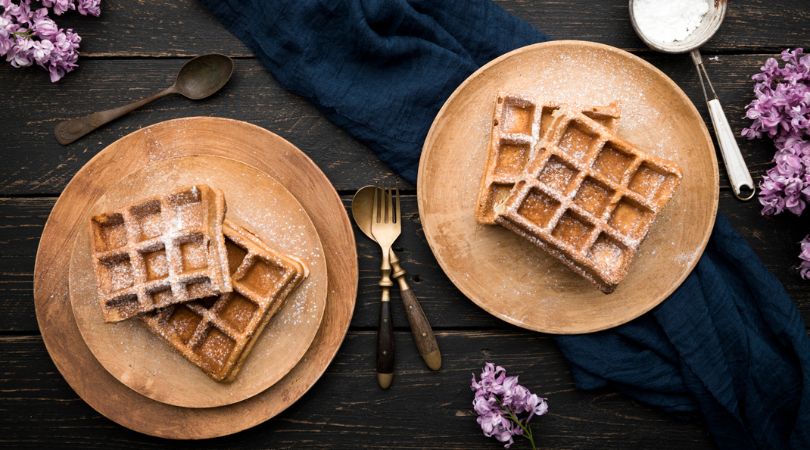 2 Large eggs

1/2 Cup 2% Milkfat cottage cheese

1/4 Cup Coconut flour

2 Scoops Vital Whey Natural Vanilla

2 TBSP Granulated monk fruit sweetener

1 TSP Pure vanilla extract

1 TSP Ground cinnamon

1 TSP Ground ginger

1/8 TSP Ground nutmeg, optional

1/16 TSP Ground cloves, optional

1/16 TSP Ground allspice, optional
Traditional waffles and pancakes are full of refined white flour and sugar that don't offer much staying power. Foods like these that are high in carbohydrates and low in fiber and protein have a high glycemic index, which means they're quickly broken down in your digestive system and create a rapid rise in blood sugar.
Blood sugar spikes can trigger unhealthy food cravings, make you feel hungrier, and contribute to inconsistent energy levels. If you've ever started your day with a tall stack and felt sluggish and hungry again soon after breakfast, you've experienced this.
You can still eat waffles, but using a high protein waffle recipe will help you feel better. Adding protein to waffles is key to keeping you full, stabilizing blood sugar, and helping you feel energized throughout the day.
These gingerbread protein waffles contain no refined grains or sugar and are gluten-free. The batter is made with high protein ingredients, including cottage cheese, eggs, and whey protein powder. A blend of warming spices makes them gingerbread waffles, but you could also leave them out for a plain waffle.
Keep reading to learn how to make homemade protein waffles.
Total Time: 15-20 minutes; Yield: 2 servings
Preheat the waffle maker according to the manufacturer's directions.

Place cottage cheese, eggs, coconut flour, whey protein powder, vanilla extract, monk fruit sweetener, cinnamon, ginger, nutmeg, cloves, and allspice in a blender jar. Blend on high speed for 30 seconds until the batter is smooth.

Use a spatula to transfer the batter to a mixing bowl. Spray the heated waffle iron with nonstick cooking spray and scoop enough batter into the heated waffle maker to cover the waffle iron. Cook for 3 to 4 minutes or until the edges of the waffle are crispy and pull away from the iron.

Repeat the process with remaining batter. Serve waffles with your choice of toppings.
Notes
Be sure to choose a monk fruit sweetener that indicates it's a 1:1 substitute for traditional sugar on the package. These sweeteners usually contain erythritol.
Refer to waffle maker directions for how much batter to scoop per waffle and recommended cook times. 
*The number of waffles this recipe makes will vary depending on the size and style of your waffle maker.
Latest posts by Ana Reisdorf, RD
(see all)