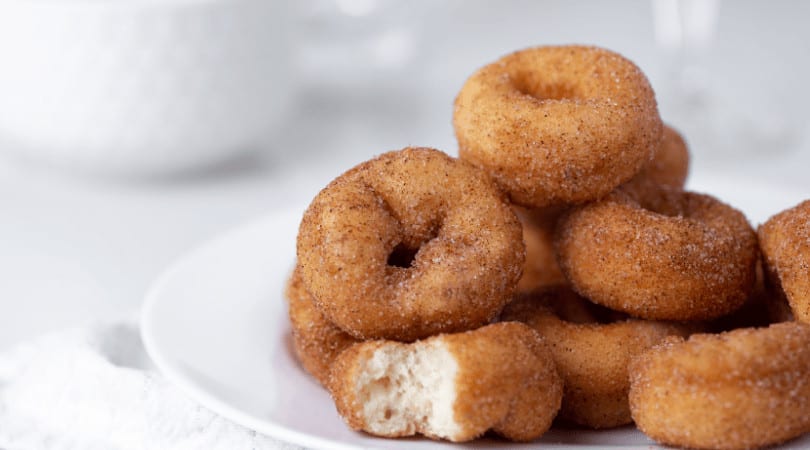 1 Cup Almond flour

½ Cup Unsweetened applesauce

3 Scoops Glut Immune

1 Egg

3 TBSP Granulated sugar

2 TBSP Maple syrup

2 TBSP Avocado oil

1 TBSP Unsalted butter, melted

2 TSP Baking powder

1½ TSP Ground cinnamon, divided

½ TSP Pure vanilla extract

¼ TSP Salt
Making your own healthy donut recipe is easier than you might think. Baked donuts are less messy to prepare and better for you than fried versions. Our version is also a gluten free baked donut recipe, which makes it a great choice for those sensitive to gluten.
Want to know how to make gluten free donuts that are so tasty you won't even miss the traditional kind?
The flour used in this gluten free donut recipe is almond flour. This type of flour is made from pulverized almonds and contains more healthy fat and protein compared to all-purpose flour. Extra fat and protein helps fill you up and prevents rapid blood sugar spikes from the carbohydrate and sugar content of the recipe. Unsweetened applesauce provides moisture and decreases the amount of added fat that's needed.
Traditional donuts can contain 15 to 30 grams of added sugar, while one of these donuts contains 10 grams of added sugar. If that's still more than you're comfortable consuming, you can swap a low-calorie sweetener, like granulated allulose, for the granulated sugar in the donut coating to make it a lower sugar gf donut recipe.
Makes: 6 donuts (Nutrition Facts for 1 Donut)
Prep Time: 10 minutes, Cook Time: 15 minutes,  Total Time: 25 minutes
Preheat the oven to 350 degrees Fahrenheit. Grease the donut pan with cooking spray.

In a wide and shallow bowl, mix together the granulated sugar and ½ teaspoon of cinnamon. Set aside. This will be the topping after the donuts bake.

In a small bowl, stir together the almond flour, Glut Immune, baking powder, 1 teaspoon of cinnamon, and salt.

In a medium bowl, stir together applesauce, maple syrup, vanilla extract, egg, and avocado oil.

Add the flour mixture to the wet ingredients and stir until just combined.

Spoon the batter into the donut pan, filling each cavity about three-quarters of the way full.

Bake for 15 minutes or until a toothpick inserted into the middle of a donut comes out clean. Let the donuts cool in the pan for 5 minutes, then turn out onto a wire rack.

Melt the tablespoon of butter in a small dish in the microwave. Use a silicone or pastry brush to brush the tops of each donut with the melted butter. Then dip each donut into the cinnamon sugar mixture. These donuts are best enjoyed the same day you make them.
Latest posts by Ana Reisdorf, RD
(see all)