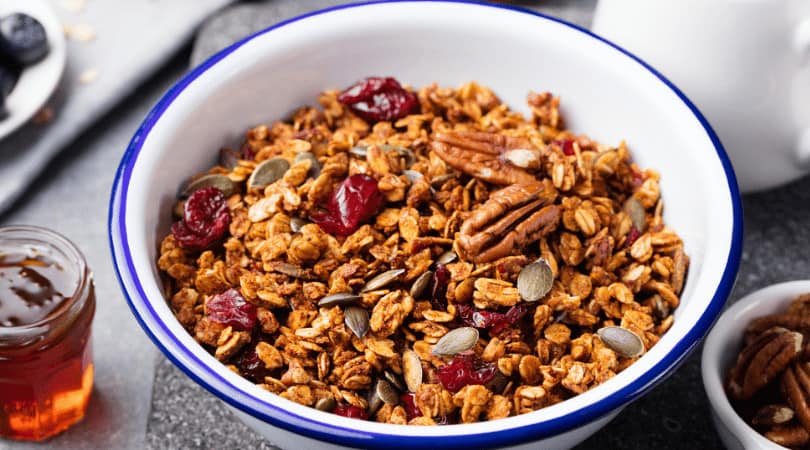 1 Cup Raw almonds, roughly chopped

1 Cup Raw walnuts halves

1 Cup Raw pecan halves

½ Cup Raw pumpkin seeds

⅓ Cup Coconut oil

⅓ Cup Pure maple syrup

¼ Cup Ground flax seed

1 TSP Ground cinnamon

¼ TSP Salt

4 Scoops Glut Immune
Have you ever tried a homemade granola recipe? Making your own granola puts you in control of the ingredients and the flavor combinations are endless. Plus, it's easy and often saves you money compared to purchasing store-bought granola.
This grain free granola recipe is made from nuts and seeds, including almonds, walnuts, pecans, pumpkin seeds, and flax seeds. This makes it a healthy granola recipe for anyone following a grain-free diet, such as keto, paleo, or Whole 30. Even if you eat grains, this grain free granola is a wonderful way to incorporate more nuts and seeds in your diet. Nuts and seeds are excellent sources of healthy unsaturated fats, protein, fiber, and essential vitamins and minerals.
You can easily substitute other nuts and seeds, such as cashews, macadamia nuts, sunflower seeds, and chia seeds, to make it your own or use the ingredients you already have on hand. Dried fruit, chocolate chips, and coconut flakes are also wonderful, flavorful additions. This recipe can also be doubled or tripled to feed a hungry household.
Use this recipe for granola as your base and then experiment to find your favorite flavor combinations!
Total Time: 305 minutes; Yield: 3 1/2 cups (serving = 1/4 cup)
Preheat the oven to 325℉. Line a rimmed baking sheet with parchment paper.

Melt the coconut oil in a small saucepan set over medium heat. Remove from heat and stir in the maple syrup, cinnamon, salt, and Glut Immune.

Place the almonds, walnuts, pecans, pumpkin seeds, and ground flax seed in a mixing bowl. Pour the coconut oil mixture over the nuts and seeds and toss to combine.

Spread mixture on baking sheet. Bake for 15 to 20 minutes, stirring halfway. Let granola cool on baking sheet, then transfer to a storage container.
Latest posts by Ana Reisdorf, RD
(see all)