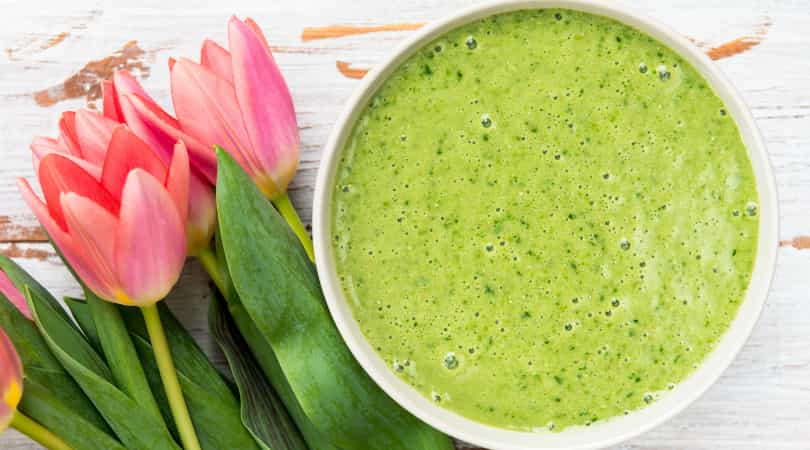 2 Whole Rainbow Shard (leaf and stem)
1 Cup Hazelnut Milk
1 Cup Ice
1 Stalk Celery
4-5 Whole Mint Leaves
1 Scoop Vital Whey Vanilla
You know green is good for you. But let's be honest, getting in enough green veggies into your diet can be challenging. So we thought we would help you out by creating this green protein smoothie packed with green goodness and protein.
When you think about what to add to your smoothie, fruit is frequently the first go-to. But a veggie protein smoothie, like our green protein smoothie recipe, can be just as tasty and even more nutritious.
We started the green smoothie with protein powder by adding three green veggies: rainbow chard, celery, and mint. The rainbow chard, sometimes called Swiss chard, is a super nutritious green leafy similar to kale. Rainbow chard is an great source of vitamins A and K.
The celery adds a hefty dose of antioxidants and vitamin C to the green protein smoothie. Celery is also incredible for detoxification due to the high fiber content. 
For taste and nutrition benefits we added a few mint leaves. Mint makes this protein shake green and also gives it a little kick. The nutrients in mint help improve digestion and reduce inflammation. 
We rounded out the green protein smoothie recipe with a hefty scoop of our Vital Whey vanilla protein powder which adds 15 grams of protein to the shake. You could also try it with our cocoa flavored Vital Whey for a minty-chocolate flavor.  
Finally, for the base of our veggie protein smoothie, we used hazelnut milk. If you have never tried hazelnut milk many liken it to melted vanilla ice cream. It does have a strong hazelnut flavor, which may work for you or not, depending on your taste preferences. 
Green protein smoothies are a great way to get your daily dose of greens in a tasty way.
Serving size: 1 smoothie
1. In a blender add all ingredients and blend until smooth and enjoy
Enjoy!


Latest posts by WPI Processing
(see all)