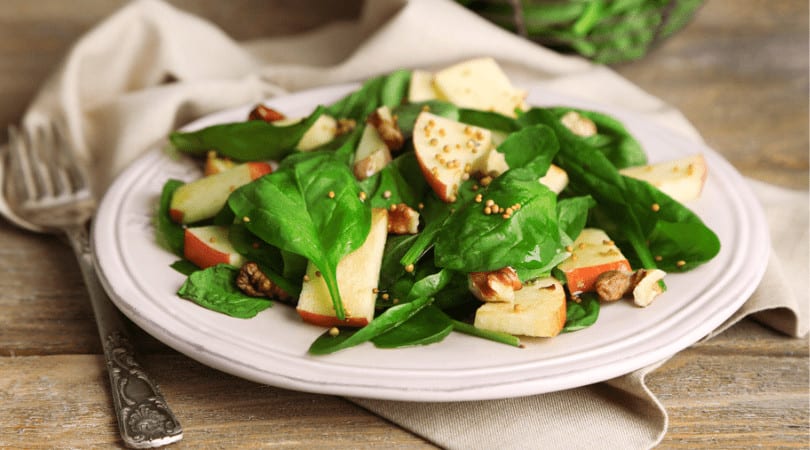 1 Head cauliflower, cut into florets

2 Honeycrisp apples, cored and sliced

2 Green pears, cored and sliced

4 Garlic cloves, minced

8 Cups Baby spinach

1 ½ Cups Sliced white button mushrooms

½ Cup Raw pumpkin seeds

½ Cup Balsamic vinegar

2 Scoops Glut Immune

2 TBSPs Maple syrup

2 TBSPs Extra virgin olive oil

½ TSP Salt

Ground black pepper to taste
Did you know fresh produce is one of the best foods you can eat to support dental health? Fruits and vegetables are packed with vitamins, minerals, fiber, and water, all of which are important for healthy teeth and gums.
This harvest spinach salad recipe starts with a bed of baby spinach, which is a good source of both calcium and vitamin C. Calcium supports strong teeth, while vitamin C is important for healthy gums. Research has linked lower intakes of vitamin C with a higher incidence of gum disease.
You'll also need the following dental-friendly ingredients for a spinach salad: cauliflower, apples, pears, mushrooms, and pumpkin seeds. All of these ingredients are good sources of water and fiber, which can help "scrub" unhealthy bacteria, sugars, and plaque away from teeth. Pumpkin seeds are also a good source of protein and the mineral phosphorus, which is another nutrient involved in building healthy tooth enamel.
To boost the protein content of this spinach harvest salad even more, you could add roast salmon or chicken breast on top. Whether you keep it plant-based or add meat, this spinach salad recipe is easy to make.
Keep reading for the recipe for harvest spinach salad!
Total Time: 45 minutes; Yield: 4 servings
Preheat the oven to 400 degrees Fahrenheit.

To make the balsamic reduction: combine balsamic vinegar and maple syrup in a small saucepan set over medium-high heat. Bring the mixture to a boil, then reduce the heat to medium-low and simmer until reduced by half, about 10 minutes. Remove from heat and stir in the Glut Immune. Let cool while you prepare the rest of the salad.

Line a baking sheet with parchment paper. Place cauliflower florets on a baking sheet and toss with extra virgin olive oil, garlic, salt, and ground black pepper. Spread the florets out and roast for 25 to 30 minutes, flipping the cauliflower halfway through.

To build the salad: place spinach in a large salad bowl or platter. Top with the roasted cauliflower, apples, pears, mushrooms, and pumpkin seeds. Serve with the balsamic reduction.
Latest posts by Ana Reisdorf, RD
(see all)