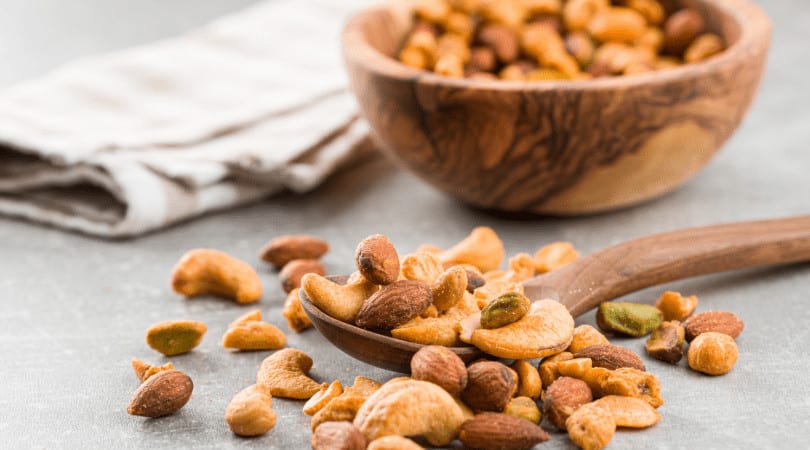 1 Cup Raw almonds

1 Cup Raw pecan halves

1 Cup Raw cashews

¼ Cup Packed light brown sugar

1 Large egg white

6 Scoops Glut Immune

2 TSP Water

1 TSP Ground cinnamon

¾ TSP Sea salt

½ TSP Ground cumin

½ TSP Chili powder

½ TSP Cayenne pepper
We love desserts as much as the next person, but with cookies, candy, and cakes taking center stage during the holidays it can be tough to find healthy holiday recipes for snacking and gifting. This savory roasted nuts recipe is the antidote if you're feeling overloaded with sugary snacks this time of year.
These roasted spiced nuts are a cinch to make. This recipe is made with almonds, pecans, and cashews, but any nut works. You can also try it with walnut halves, hazelnuts, or brazil nuts.
Made with a mix of spices, like cinnamon and chili powder, these nuts make a delectable sweet and spicy addition to holiday snack spreads. Add a bowl of nuts to cheese and charcuterie platters, enjoy them for a mid-afternoon pick me up, or portion into jars or bags to give as gifts.
Tossing the nuts in an egg white is the secret to getting the spice mixture to stick without any added oil. We've enhanced the egg white with several scoops of Glut Immune for extra glutamine.
Glutamine offers several health benefits we could all use more of during a busy holiday season: enhanced immunity, balanced blood sugar levels, decreased fatigue, and improved digestion.
Prep Time: 5 minutes
Cook Time: 20 minutes
Total Time: 25 minutes
Makes: 12 (¼-cup) servings
Preheat the oven to 350 degrees Fahrenheit. Line a rimmed baking sheet with parchment paper and set aside.

In a small bowl, mix together the brown sugar, cinnamon, sea salt, cumin, chili powder, and cayenne pepper. Set aside.

Place egg white in a large mixing bowl. Add water and Glut Immune to egg white. Use a whisk to beat egg white until bubbly and frothy.

Add almonds, pecans, and cashews to the egg white. Use a large spoon to toss the nuts until they are well coated with egg white and no liquid remains on the bottom of the bowl.

Sprinkle half the seasoning mix onto the nuts and stir well. Add remaining seasoning mix and stir again.

Spread nuts on the parchment lined baking sheet. Bake for 10 minutes, then remove from the oven to stir the nuts. Return to the oven and bake for 10 minutes more.

Let the nuts cool completely on the baking sheet. They will crisp as they cool. Once cool, transfer to an airtight container and store at room temperature.
Latest posts by Ana Reisdorf, RD
(see all)