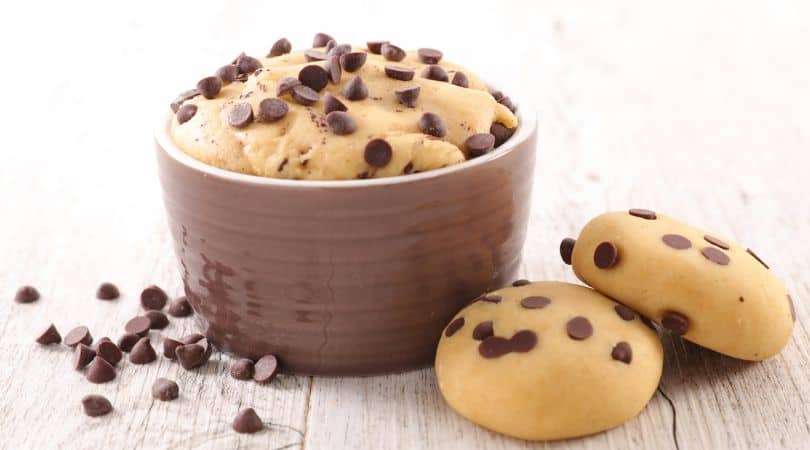 1/4 Cup Creamy natural peanut butter

1 Scoop (20 grams) Vital Whey Natural Vanilla

2 TBSP Coconut flour

2 TBSP Granulated monk fruit sweetener

2 TBSP Plus 1 TSP Skim milk or unsweetened plant-based milk

1 TBSP Dark chocolate chips

1/2 TSP Pure vanilla extract
What do you reach for when you're craving something sweet but want to stick to your high protein meal plan? This high protein cookie dough recipe is just the thing to satisfy a cookie or dessert craving without unhealthy ingredients.
Traditional cookie dough contains raw ingredients, which aren't recommended for human consumption due to food safety concerns. It's also high in sugar, fat, and refined carbohydrates which can increase cravings. This protein powder cookie dough is a good source of protein and happens to be gluten-free, grain-free, and sugar-free to fit a variety of eating styles.
The "batter" is made with natural peanut butter, vanilla whey protein powder, coconut flour, monk fruit sweetener, a bit of milk, and dark chocolate chips. These ingredients are more nutritious with protein, fiber, and healthy fat to help satisfy hunger between meals and keep blood sugar stable. The end result is an edible protein cookie dough that can be eaten with a spoon.
If you want a double chocolate homemade protein cookie dough, you could substitute chocolate whey protein powder for the vanilla whey protein powder and even add a bit of cocoa powder.
Keep reading to learn how to make protein cookie dough.
Total Time: 15-20 minutes; Yield: 2 servings
Place peanut butter, whey, coconut flour, and monk fruit sweetener in a medium mixing bowl.

Add vanilla extract and milk to the dry ingredients and stir to combine. If the mixture is too dry, add ½ teaspoon more milk, until the ingredients pull together into a ball and the consistency resembles raw cookie dough.

Fold in the chocolate chips. Enjoy immediately or transfer to a storage container and keep in the refrigerator for up to 1 week.
Notes
Be sure to choose a monk fruit sweetener that indicates it's a 1:1 substitute for traditional sugar on the package. These sweeteners usually contain erythritol.
Latest posts by Ana Reisdorf, RD
(see all)