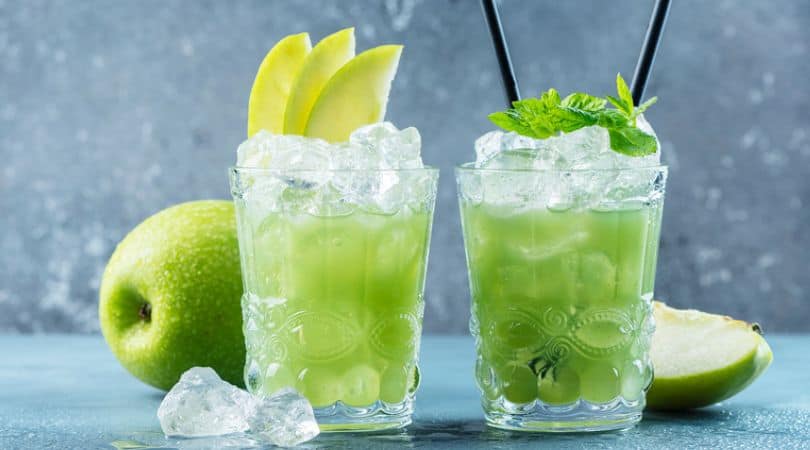 1 Whole Lemon, peeled

1 Small Green apple, cored and quartered

1 Mini Cucumber (about 6 inches long or ⅓ of an English cucumber)

¼ Cup filtered water

1 Scoop Glut Immune
Craving the refreshing flavor of a glass of lemonade, but not interested in added sugars? We've got you covered with this homemade low sugar lemonade.
Most lemonades are full of added sugar to balance the natural tartness of lemon juice. Just one cup of traditional sugar-sweetened lemonade can contain 25 grams of added sugar, which is about 6 teaspoons of table sugar.
The trick to making homemade lemonade with low sugar is using nature's natural source of sweetness: fresh fruit. To make this low sugar lemonade recipe, you'll need a juicer. If you don't have a juicer, you can use a blender and then strain your lemonade through a fine mesh strainer.
Fresh lemon juice is combined with green apple and cucumber to make a green apple lemonade recipe with a beautiful green color. Lemons and apples do contain natural sugars, so we've added a scoop of Glut Immune to make it more blood-sugar friendly. Glut Immune adds protein, which helps balance the blood sugar response. It also gets you a daily serving of glutamine, which supports the maintenance of blood sugar levels, digestive health, and immune system function.
Here's the step-by-step for how to make low sugar homemade lemonade.
Total Time: 5 minutes; Yield: 1 servings
Pour water into a glass or juicing container. Add the scoop of Glut Immune and position the glass or container under the spigot of a juicer.

Process apple, lemon, and cucumber through the juicer according to manufacturer instructions.

Vigorously stir or whisk the juice until the Glut Immune is fully dissolved and enjoy.
Latest posts by Ana Reisdorf, RD
(see all)