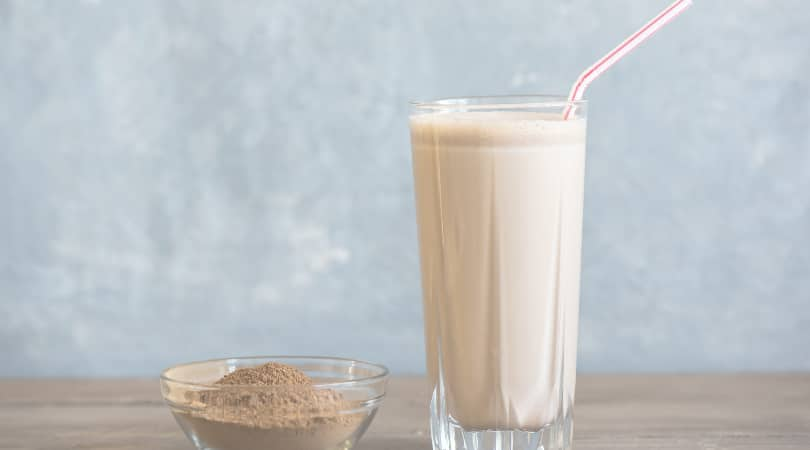 1 Cup Coconut Milk (or any other milk preferred)
1 Cup Ice
1 Scoop Vital Whey Cocoa
1 Whole Banana
1/8 Tsp Cayenne Pepper
4-5 Whole Mint Leaves
A dose of protein is a great way to start your morning. Protein helps you stay satisfied until lunch and kicks your metabolism into high gear. A high protein breakfast has been associated with a lower calorie intake all day long.
While you may already have a favorite morning protein shake recipe, why not kick it up a notch by trying a protein shake that increases metabolism as well?
In this morning energy protein shake recipe, we added a few extra ingredients to help kick your energy up a notch. We started with our protein-rich Vital Whey Cocoa, the finest whey protein on the planet. This adds 15 grams of undenatured, nutrient-dense whey protein to help sustain long-term energy.
Coconut milk is rich in medium-chain triglycerides, a type of fat that can be immediately used for energy. This makes it an ideal ingredient for any heart healthy protein shake.
We made this a spicy protein shake by adding a dash of cayenne pepper and some mint leaves. The pepper helps speed up your metabolism all day. Fresh mint gives you a boost of energy and a refreshing flavor.
Use this recipe to mix up your morning protein shake to start your day and your metabolism off on the right foot.
Serving size: 1 smoothie
1. In a blender add all ingredients and blend until smooth and enjoy
Enjoy!
Kitchen Notes:
The cayenne pepper does give the shake a little heat but nothing painful this is especially good to note if you do not like spicy foods.   If you really enjoy spicy foods go ahead and kick it up a notch and add more. Also any milk or plant milk like works with this drink. If you need more protein go ahead and add two scoops still works very well.   
Latest posts by WPI Processing
(see all)