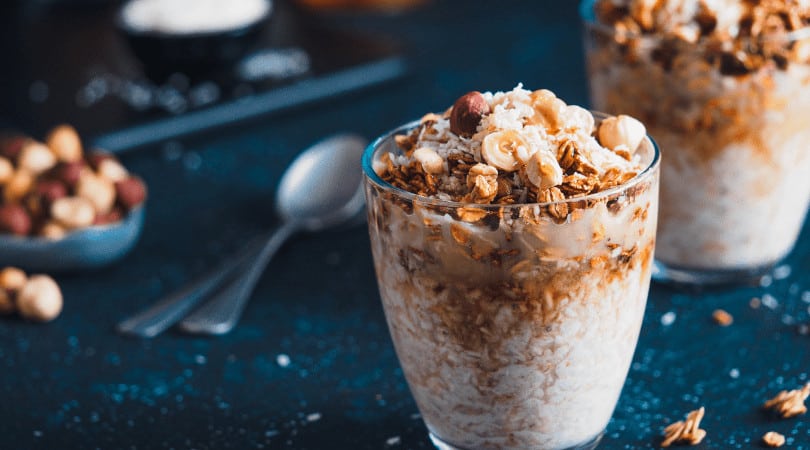 1 Cup Old-fashioned rolled oats

1 Cup Whole milk or milk of choice

1 Scoop Vital Whey Cocoa

2 TBSP Natural peanut butter

2 TSP Chia seeds

2 TSP Maple syrup or honey, optional
Starting your day with a wholesome meal that's ready to eat when you are is a huge time-saver, whether you tend to run late in the AM or you're simply not a morning person.
Whole grain oats support heart health and weight management. They're also one of the most sustainable grains grown around the world.
No-cook oatmeal is made by soaking oats in liquid in the refrigerator and enjoyed cold. Cold oats need several hours to absorb the liquid and soften, so no-cook oatmeal is typically made the night before you plan to eat it. This cold oats recipe calls for whole milk but low-fat milk or any variety of non-dairy milk can be used as well.
There are so many ways to flavor oats, but overnight oats with peanut butter and chocolate are a classic flavor pairing. The best kind of peanut butter to use for peanut butter overnight oats is a natural nut butter that's drippy in texture.
Peanut butter and chocolate whey protein powder add fat and protein to increase satiety and balance out the carbohydrates in the oats. Chia seeds absorb liquid, which helps thicken the oatmeal, and are a good source of omega-3 fatty acids.
Total Time: 5 minutes (6-8 hours inactive); Yield: 2 servings
Divide oats, milk, chia seeds, Vital Whey, peanut butter, and sweetener between two jars. Screw a lid onto each jar and shake vigorously until ingredients are well combined.

Place jars in the refrigerator for at least 6 hours or overnight.

Before serving, give the mixture a stir. Add an extra splash of milk if the oatmeal is too thick.
Latest posts by Ana Reisdorf, RD
(see all)