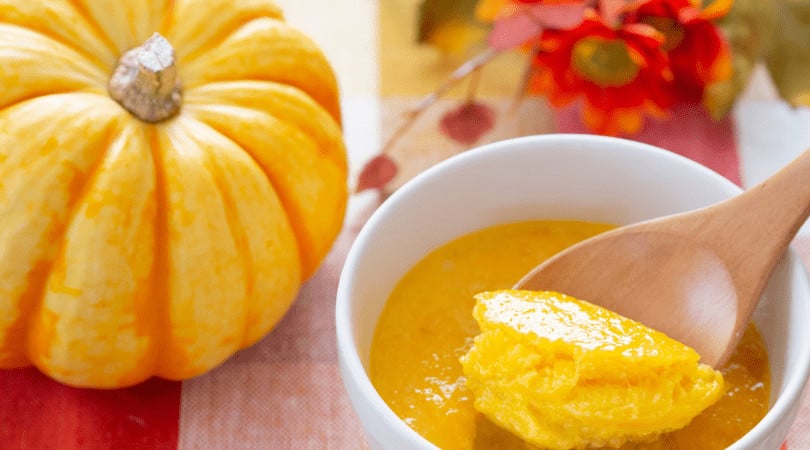 4 medjool dates

3 scoops Glut Immune

1 15-ounce can pure pumpkin puree (not pumpkin pie filling)

½ avocado, pit removed, and flesh scooped from skin

2 TBSP peanut butter powder

1 TBSP pure maple syrup

1 TSP pure vanilla extract

½ TSP pumpkin pie spice

¼ TSP ground cinnamon

¼ TSP salt
Are you excited for pumpkin season, which used to be called fall? We definitely are! If you can't get enough pumpkin recipes, but don't like some of the less-than-healthy options out there, we created this delicious healthy pumpkin pudding recipe just for you by adding some protein and other healthy ingredients to create an incredible dessert.
We obviously start the pumpkin protein pudding with blended pumpkin and the typical fall seasonings like vanilla, pumpkin pie spice, and cinnamon. The ½ avocado adds additional creaminess and a bit of healthy monounsaturated fat when it is blended in with the pumpkin. This is what creates the "pudding" texture.
Peanut butter powder adds a bit of protein and an interesting flavor, which pairs surprisingly well with the pumpkin. If you are not familiar with it, peanut butter powder can be found in the nut butter section of most grocery stores.
Our Glut Immune boosts the nutrient content of the peanut butter protein pudding. Glutamine is beneficial for supporting healthy immunity, digestion, muscle repair, and brain health.
Serve our healthy pumpkin peanut butter pudding recipe as a dessert for Thanksgiving or a healthy Halloween party. In the fall, what even doesn't pair perfectly with a delicious pumpkin dessert?
Makes: About 2 cups or 4 ½-cup servings
Total Time: 10 minutes
Place dates into a small bowl and pour ½ cup boiling water over them to soften. Let soak for 5 minutes.

Remove dates from water and remove the pits. Do not discard the soaking water.

Combine dates, pumpkin puree, avocado, peanut butter powder, maple syrup, vanilla extract, pumpkin pie spice, cinnamon, salt, and glutamine powder in the bowl of a food processor with a multi-purpose blade attached.

Process until ingredients are well blended, fluffy, and no date pieces remain visible. Add 1 or 2 tablespoons of the reserved water to help blend ingredients, if needed. Pause frequently to scrape the sides of the work bowl to incorporate all ingredients.

Serve or transfer to an airtight storage container and refrigerate for up to 2 days.
Kitchen Notes: 
If you don't have a food processor, you can use a blender.

If you don't care for pumpkin pie spice, increase the amount of ground cinnamon to ½ or ¾ teaspoon.
Latest posts by Ana Reisdorf, RD
(see all)