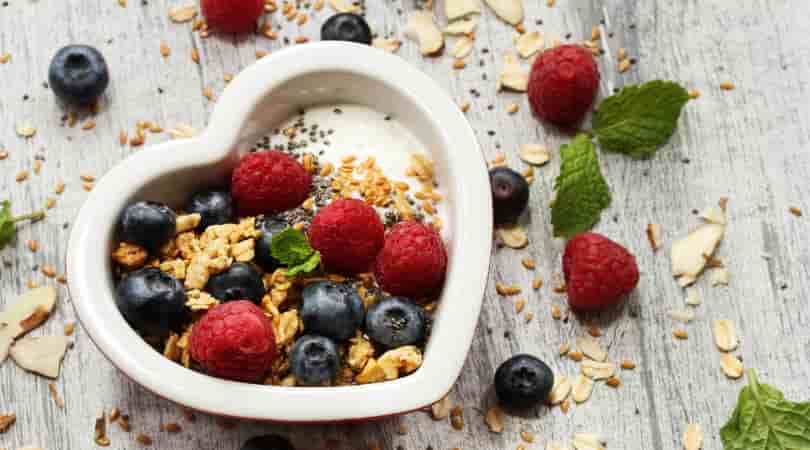 1 Cup Plain Greek Yogurt
1 Scoop Vital Whey Vanilla
1/3 Cup Granola
1/8 Cup Fresh Raspberries
1/8 Cup Fresh Blackberries
1/8 Cup Fresh Blueberries
Greek yogurt is packed with protein and makes for a delicious and versatile snack. But sometimes it can be a little bit plain on its own. So, you might be looking for some healthy Greek yogurt recipes to jazz up snack time.
This Greek yogurt with fruit is a great way to boost the nutrition and taste of your regular snack. We started the recipe with plain Greek yogurt, feel free to choose your favorite brand. The brand we chose, Stonefield Organic, has 23 grams of protein per serving. But that was not enough protein for us.

We added one scoop of our Vital Whey vanilla to this Greek yogurt bowl, which adds an additional 15 grams of protein. This healthy Greek yogurt with granola packs 42 grams of protein. With that much protein, you will definitely stay full until your next meal.
To make the Greek yogurt with protein powder taste amazing we topped it with granola and a variety of berries. Granola can pack some calories and fat, but we only used ⅓ cup for this recipe. You can reduce the amount if you want to cut back on the calories and fat.
The berries add a hefty dose of vitamins, antioxidants and fiber to boost the nutritional content even more. Feel free to experiment with the berries you use. You can also substitute frozen berries, if you don't have fresh ones on hand.
Putting this snack together is so simple, just mix and enjoy!
Serving size: 1 bowl
1. In a bowl add yogurt and gradually mix in whey.  Once mixed well top with granola and berries.  Enjoy!!!
Enjoy!
Kitchen Notes:
You can also use Vital Whey Cocoa instead of Vanilla for a different flavor.
This recipe works great with cashew yogurt or any plant-based yogurt for paleo and vegetarian diets. However, please note your nutritional values will change.

This recipe is great to make the night before and just grab and go in the morning  
Latest posts by WPI Processing
(see all)