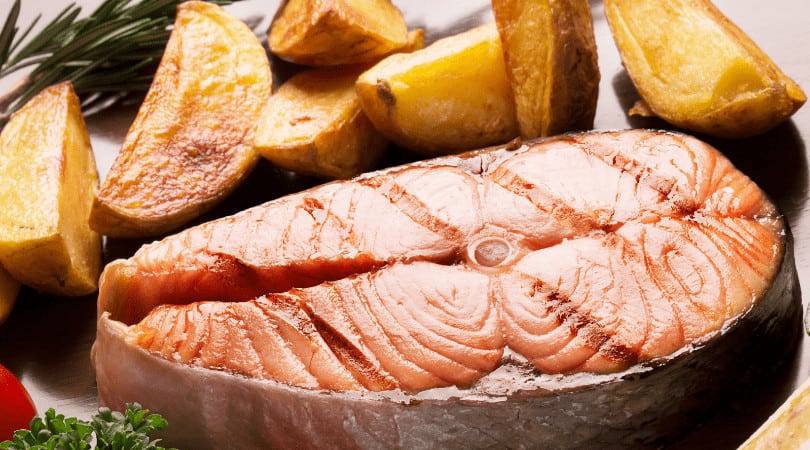 4 4oz.

Salmon filets

2 Large

Potatoes (about 1 pound), cut into 1-inch pieces

1 TBSP

Extra virgin olive oil

1 TSP

Salt

½ TSP

Ground black pepper

 

For the pesto:

1 Cup

Fresh parsley

½ Cup

Raw, shelled walnut halves

1 or 2

Garlic cloves, peeled

¼ Cup

Fresh shredded parmesan cheese

¼ Cup

Extra virgin olive oil

Salt and ground black pepper to taste
Love salmon, but want to learn how to make healthy salmon recipes? We also love a great healthy salmon dinner recipe. Roasting is a great way to make a delicious and tasty salmon dish. Potatoes also taste great roasted, which is why we paired these two together in this salmon with pesto sauce recipe.
Our healthy salmon dinner recipe starts with omega-3 rich salmon. Choosing wild-caught fish is always best. For the potatoes, feel free to get creative here. You can use your favorite type or mix in a colored variety, like purple, if you prefer.
Making your own pesto is a great way to incorporate more fresh herbs into your cooking and diet. This pesto is made with fresh parsley, walnuts, garlic, parmesan cheese, and extra virgin olive oil.
Parsley has the added benefit of helping to bust bad breath and the walnuts and garlic contain powerful antioxidants that can help protect your gums from inflammation causing dental plaque and bacteria. This makes it one of the top foods that are good for your teeth.
We hope our roasted salmon with potatoes recipe will soon become a regular in your weekly dinner rotation for its simplicity and nutrient content.
Serving size: make 4
Preheat the oven to 400 degrees Fahrenheit.

Toss potatoes with 1 tablespoon extra virgin olive oil, 1 teaspoon salt, and ½ teaspoon ground black pepper. Spread onto a large rimmed baking sheet and bake in the preheated oven for 10 minutes.

While the potatoes are in the oven, prepare the pesto. Place the parsley, walnuts, garlic, and parmesan in the bowl of a food processor with a multi-purpose blade attached. Process until the ingredients are finely chopped. Scrape the sides of the bowl as needed to incorporate all ingredients.

With the food processor still running, slowly add the extra virgin olive oil through the pour spout. Season the pesto with salt and black pepper to taste.

After 10 minutes, remove the baking sheet from the oven. Top the potatoes with 2 tablespoons of pesto and use a large spoon or tongs to toss to coat the potatoes evenly with the pesto.

Push the potatoes to one side to make room for the salmon. Arrange the salmon fillets on the baking sheet and top each fillet with about 2 tablespoons of the pesto.

Return the baking sheet to the oven and bake for 15 minutes or until the potatoes are easily pierced with a fork and salmon is opaque.

Serve with remaining pesto to drizzle or reserve for another use.

Enjoy!
Kitchen Notes: 
Serving size based on:
For 1 salmon filet with ¼ of the potatoes and approximately 2.5 tablespoons of pesto
Latest posts by Ana Reisdorf, RD
(see all)