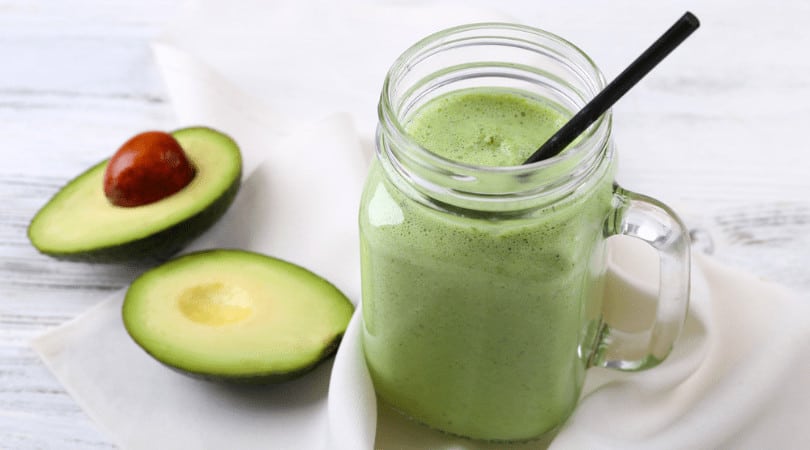 1 Cup Unsweetened almond milk

1 Cup Fresh strawberries, hulled

1 Cup Baby spinach (about 1 handful)

½ Avocado, pit and peel removed

½ Banana, frozen

1 TBSP Coconut butter

1 Scoop Vital Whey protein
Starting your day with a simple smoothie can provide you with key nutrients for healthy, glowing skin.
Healthy fats and protein are a winning duo for soft, supple skin that maintains moisture and elasticity. Vitamin C is also a key player in skin health. Your body needs plenty of the sunshine vitamin to produce collagen and defend against free radicals that contribute to signs of skin aging.
This glowing skin smoothie contains avocado and coconut butter for healthy fats, whey protein for a serving of essential amino acids, plus strawberries and spinach for your daily dose of vitamin C.
Smoothie recipes with avocado have a creamy texture and richer taste thanks to the fats in the avocado. This avocado smoothie recipe also contains half of a banana for sweetness and an extra creamy texture. Remember to freeze your banana the night before because frozen bananas give smoothies a smoother consistency than room temperature bananas.
Smoothies give you the ability to quickly and easily blend several food groups and nutrients, which is the main benefit of smoothies for skin health. Plus, smoothies are a convenient meal option when you're short on time or need to take your breakfast to go.
Prep Time: 5 minutes (prep)
Serving size: 1 smoothie
Pour almond milk into your blender jar. Add strawberries, avocado, spinach, frozen banana, coconut butter, and whey protein. Blend on medium-high speed until smooth and creamy. Serve immediately.
Latest posts by Ana Reisdorf, RD
(see all)