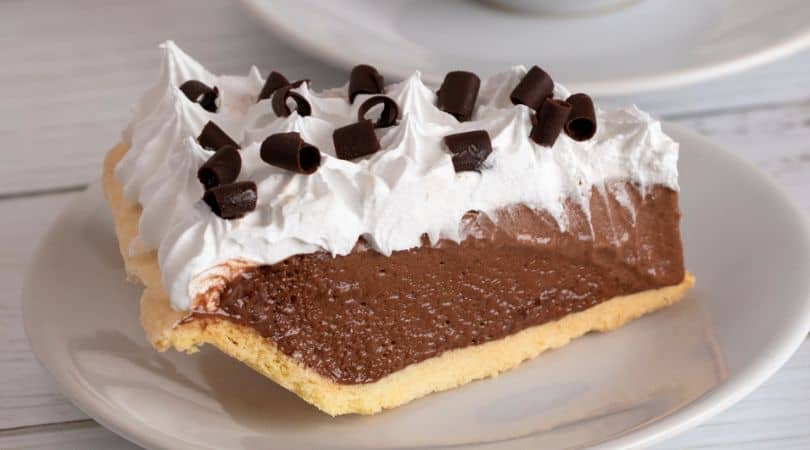 For the crust:

2 Cups Chopped raw walnuts

3 TBSPs Unsalted butter, melted

2 TBSPs granulated sugar-free sweetener, such as stevia or monk fruit

¼ TSP salt

 

For the filling:

1 lb. (16 ounces) Silken tofu

½ Cup Unsweetened dutch-processed cocoa powder

½ Cup Granulated granulated sugar-free sweetener, such as stevia or monk fruit

¼ Cup 2% milk

2 Scoops Vital Whey Cocoa

1 TSP Pure vanilla extract

¼ TSP Salt

Sugar-free chocolate chips for garnish, optional
Whether you're looking for sugar free pie recipes for diabetics or just a healthier version of a classic pie, there's a lot to love about this sugar free chocolate cream pie recipe.
This is an impressive yet easy sugar free chocolate pie to make. It's a no-bake recipe, so it comes together in about a half hour but the filling does need a few hours in the fridge to set, so you'll want to make it the morning of or even the day before you plan to serve it.
To create a thick, pudding-like consistency, the filling for this sugar free cream pie recipe is made with a brick of tofu, cocoa powder, and sugar-free sweetener and the crust is grain-free and made from ground walnuts.
You'd never know there's tofu in this pie, but it adds blood-sugar friendly protein and very few carbohydrates. Unlike chocolate bars and chips, cocoa powder is high in fiber and low in sugar. Choose dutch-processed cocoa for this recipe for maximum chocolate flavor and a granulated stevia or monk fruit sweetener that is a 1:1 replacement for white sugar.
Here's the step-by-step for this sugar free chocolate pie recipe.
Total Time: 30 minutes, plus 4-8 hours chill time; Yield: 8 servings
Preheat the oven to 325 degrees Fahrenheit.

Add walnuts, melted butter, 2 tablespoons granulated sweetener, and ¼ teaspoon salt to the bowl of a food processor fitted with a multipurpose blade. Process until the nuts are finely ground and the mixture pulls together. Be careful not to overmix, as processing too long will puree the nuts into nut butter.

Use a spatula to transfer the walnut mixture into a 9-inch pie pan. Use spatula or clean hands to press the mixture into an even layer across the bottom and sides of the pan.

Bake the walnut crust for 12 to 15 minutes or until just beginning to turn light golden brown. Remove the pie crust from the oven and let cool while you prepare the filling.

Rinse out the food processor. Then, add the tofu, cocoa powder, ½ cup sweetener, whey protein, milk, vanilla extract, and salt to the food processor bowl. Process until smooth, pausing to scrape the sides of the bowl with a spatula as needed.

Transfer the filling to the cooled pie crust. Use a spatula to evenly spread the filling. Garnish the perimeter of the pie with chocolate chips, if desired.

Place the pie in the refrigerator for at least 4 hours or preferably overnight until filling is firm.
Notes
You can use a stevia or monk fruit granulated sweetener in this recipe. Just make sure to choose a sweetener that indicates it's a 1:1 substitute for traditional sugar on the package. These sweeteners usually contain erythritol.
Powdered stevia and monk fruit extracts will not work in this recipe. They do not contain erythritol and are much sweeter than granulated versions designed to be a sugar alternative.
Latest posts by Ana Reisdorf, RD
(see all)