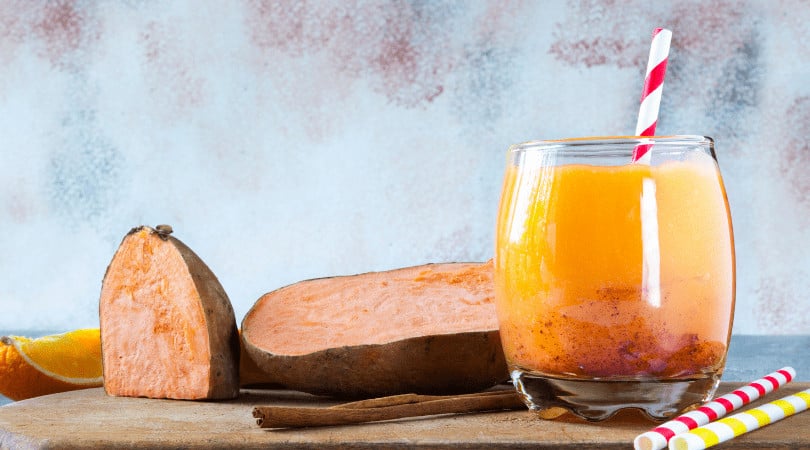 1 Cup Whole milk or milk of choice

½ Cup Sweet potato chunks, precooked and frozen

4 Whole Dried figs

1 Scoop Vital Whey Vanilla

1 TBSP Ground flax seed

¼ TSP Ground cinnamon
If you're looking for a way to freshen up your morning whey protein smoothie, try adding a new fruit to the mix. Most people reach for bananas or berries, but why not give a fig smoothie a go? Sweet potatoes and figs in a smoothie taste like a fall favorite pie.
This recipe uses dried figs, which have a more concentrated flavor than fresh figs. They also add natural sweetness to this sweet potato smoothie.
This sweet potato smoothie recipe starts with cooking, cutting, and freezing fresh sweet potatoes. It's an added step that you need to allow enough time for, but this process is mostly hands-off. You can even prep a large batch of sweet potatoes at once so you have them for smoothies, soups, chilis, hash, and more. If you don't have time to prepare sweet potatoes ahead of time, look for pre-cut sweet potato cubes in the frozen food section of your grocery store.
Sweet potatoes can be eaten uncooked, but they can cause an upset stomach in some people. Pre-cooking the sweet potato is easier on digestion. Plus, using frozen sweet potato helps chill the smoothie without diluting it and gives the drink a creamier texture.
Prep Time: 30 minutes (prep), 10 minutes (blending) Serving size: 1 smoothie
   

To prep sweet potato: Scrub a small sweet potato and bake at 375℉ for 30 minutes or until you can pierce through it with a knife. You can also cook your sweet potato in the microwave to save time. Let the sweet potato cool, then cut into 1-inch cubes and transfer to a freezer-safe storage container. Place in the freezer until frozen, about 4 hours or overnight.

To make the smoothie: Place frozen sweet potato, milk, figs, Vital Whey, flax seed, and cinnamon in a blender. Process on high-speed until smooth and creamy. Transfer to a glass.
Latest posts by Ana Reisdorf, RD
(see all)