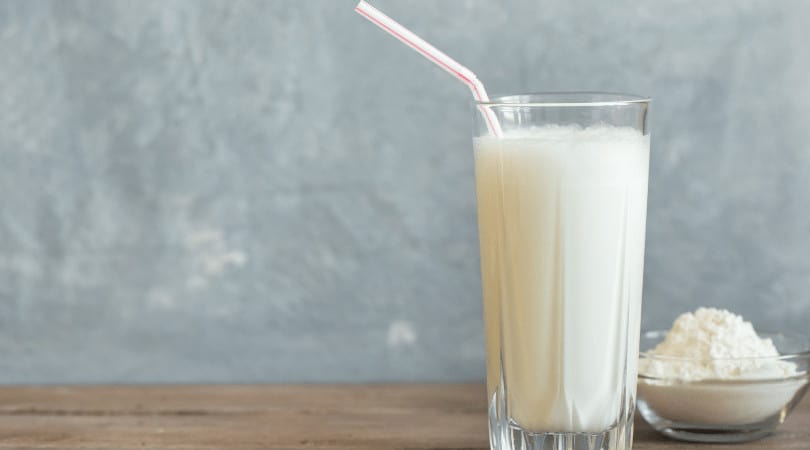 2 Cups Brewed coffee, room temperature or chilled

4 Medjool dates, pits removed

2 Scoops Vanilla Vital Whey

½ Cup boiling water

½ Cup unsweetened vanilla almond milk

½ TSP pure vanilla extract

1 cup of ice cubes, for serving
Skip the line at the coffee shop and save a few dollars by making your own flavored iced java drink at home. Bonus? This iced coffee recipe is made with protein powder so you can check off your morning caffeine and protein shake in one delicious drink.
Some people hesitate before adding whey protein to coffee for concern the heat of the coffee will denature the protein, but an iced coffee with protein solves that problem. This recipe is made with brewed coffee that's been cooled to room temperature or chilled to maintain the integrity of the whey protein.
To ensure your coffee is cool enough for this coffee protein shake recipe, we suggest making cold brew or brewing coffee and placing it in the fridge the night before.
This iced coffee with vanilla protein powder is sweetened with dates, which adds a hint of caramel flavor. One benefit to using dates to sweeten your coffee protein shake is their fiber content.
Two Medjool dates contain about 3 grams of fiber, compared to granulated sugar, honey, or maple syrup, which do not contain fiber. Combined with protein, fiber helps slow digestion and counteract the impact sugar has on blood sugar levels.
Makes: 2 servings, approximately 10-oz each
Total Time: 15 minutes
Place the dates in a small bowl and cover with boiling water. Let soak for 5 to 10 minutes or until the dates have softened.

Drain dates and place in a blender. Add coffee, almond milk, Vanilla Vital Whey, and vanilla extract to the blender and process on high speed until well-mixed and frothy.

Let foam settle before pouring. Divide ice between two glasses and pour coffee mixture over ice.
Latest posts by Ana Reisdorf, RD
(see all)